How to log a migraine symptom with 3 taps
When you are dealing with a migraine, you don't feel like fussing with your phone. MigraineMind is designed to help you track your symptoms quickly so you can get back to taking care of yourself. All you need to do is start MigraineMind and tap on 3 buttons. Once you're feeling well enough, come back and fill in the details.
1 - Tap the big (+) button
MigraineMind's home screen is simple and contains two big buttons. The first one is a plus sign that you use to add new entries to your migraine diary.
Just tap the (+) button and MigraineMind takes you to the next screen.
2 - Tap on your symptom
The symptoms screen comes pre-loaded with typical migraine symptoms. Simply tap on the symptom you are experiencing and MigraineMind will take you straight to the Symptom Entry screen.
Let's tap on the Fatigue symptom.
Note: If you do not see your symptom, it is very easy to add it to the list. Simply tap on the '+' button at the top right of the screen and you will be asked to enter a name for your symptom. Once you have entered your new symptom, MigraineMind will show it in the Symptoms screen for you to tap on.
3 - Tap on the Save button
The Symptom Entry screen is where you provide the details of your diary entry. The start time defaults to the current time, so if your symptom just started all you need to do is tap the Save button on the top right corner of the screen. This will add your symptom as a new entry in your diary and take you to the diary screen.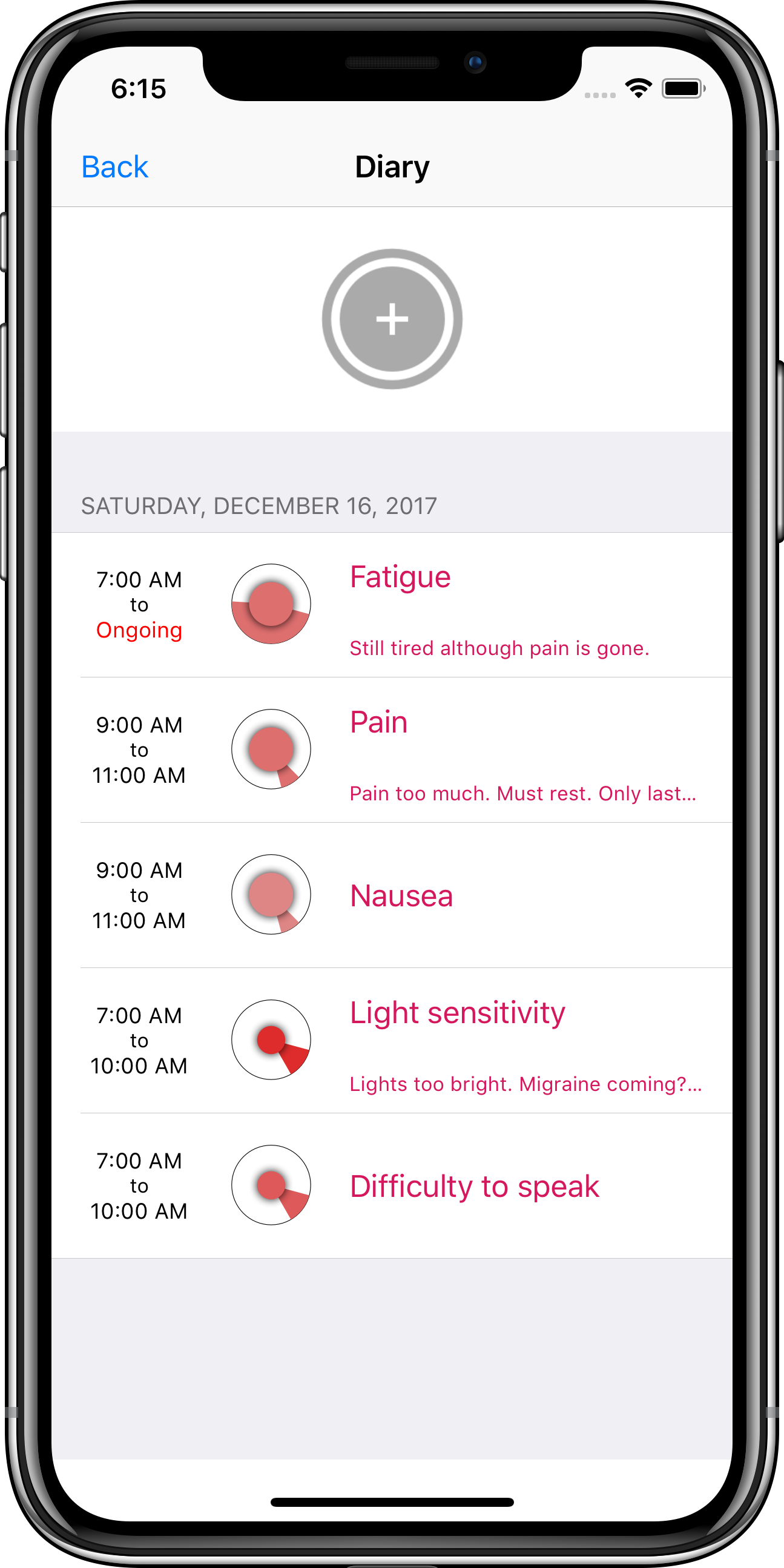 That's it!
With 3 taps you have recorded the start of your symptom to your diary. The Diary screen shows you all your recorded symptoms starting with the ongoing symptoms, followed by symptoms that have ended (from most recent to oldest).
Later on you can return to the diary and provide more details on your symptom (such as intensity, life impact or end time).